The Simalex Die Casting Team
Simalex is a family owned and operated business that was founded by Alex Lyhne and George Simon Wentworth in 1964. Interestingly, the company got its name from the two founders. The name was created with 'Sim' from 'Simon' and 'Alex' — to get 'Simalex'.
Fred Lyhne, Sr. then became a partner soon after and passed the torch onto his son, Fred Lyhne, Jr., who currently leads our team of die casting design and engineering experts.
As a Simalex client, you're working with some of the most talented die casters and CNC machining experts in North America while getting exceptional value for your money.
See for yourself by choosing Simalex for your next custom high pressure die casting project!
To explore the possibilities, contact us today.
Fred is the third generation of Lyhnes to head up Simalex and loves knowing the company is still family-owned after all these years. He manages all aspects of Simalex's operations, and also works on our tool engineering, robotics integration, quotes and inside sales support. Fred is a Red Seal journeyman tool and die maker and machinist. He is also an expert die casting engineer. He has over 30 years of experience in the die casting industry with Simalex and is qualified in SolidWorks, Inventor, AutoCAD, MasterCam, GibbsCam, CamWorks and Pro Engineer. Fred loves getting involved in sports, such as bodybuilding, powerlifting, football and hockey. He also loves drag racing and muscle cars.
Tammy has over 20 years of experience in the manufacturing sector. She is certified in human resources, as well as CMM programming and operation. At Simalex, she is responsible for PPAP documentation, inspections, dock checks, internal and external audits and quality management. When she's not at work, Tammy likes to read, and let loose by gaming on her PC or PS4.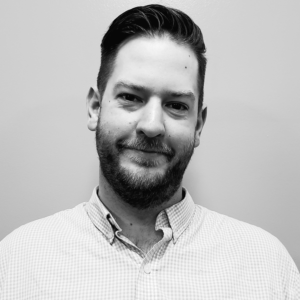 Patrick is our Business Development Coordinator. He came to us from an unlikely place - the Printing and Signage world where he had made a career as the go-to graphic guy for some of the most iconic retailers and brands in North America. Patrick is right at home with the Simalex family and his passion for finding and creating meaningful relationships lives on. He says he credits his success in sales to the belief that a Sales Rep must represent the client's best interest above all else. Outside of the office, Patrick is a family man, a nature lover and an adventurer. Whether it's a weekend in the woods with his family or a motorcycle trip to the Arctic, he's always planning his next outing.
Freddy is the fourth generation of the Lyhne family to be at Simalex and loves being involved in multiple aspects of the company's operations. Freddy supports our Operations in overseeing Production, the CNC department, HR, and working with our vendors. He is certified Level 1 in PCDMIS, qualified in SolidWorks, GibbsCam and CamWorks, and is a certified Red Seal Machinist. When he's not carrying on the family tradition at work, he enjoys bodybuilding, football and spending time with friends and family.
Jodi has worked for Simalex for over 25 years! She handles all of our shipping and receiving, including third party pickups, bills of lading and NAFTA documentation. When she is not ensuring that our incoming and outgoing product is organized and moving efficiently, she enjoys gardening, arts and crafts and spending time with her family.
Jennifer Jules joined the Simalex team in July of 2018 after coming to us from the Pharmaceutical world. Jennifer oversees our Accounts Payables, Accounts Receivables and Payroll. She is also the friendly face when you first walk into Simalex and always happy to greet and assist the next person to come in (or call in!). Although she's as organized and tidy as they come, Jenn has an easy-going personality and a wicked sense of humour. Jennifer lives for her family and likes making memories with them (although it has been suggested that she likes animals more than people). When she does manage to find that much needed quiet time to herself she says there's nothing quite like a good book to curl up to.
Equipment
The latest in CAD software, European mold-making equipment and precision CNC milling machines – we only use the best of the best for your project.
Quality Assurance
When you work with Simalex, you can rely on rigorous quality assurance testing during all phases of your project. That means consistent results and quality every time.
Environment & Safety
You're making an eco-friendly choice when you work with us. From streamlining process efficiency to using recycled metals, our commitment to environmentally responsible manufacturing runs deep.
Alloys
If you need precision parts made from non-ferrous metal we are the people to call. We specialize in aluminum, zinc and magnesium die casting and can help you select the right alloy for your needs.